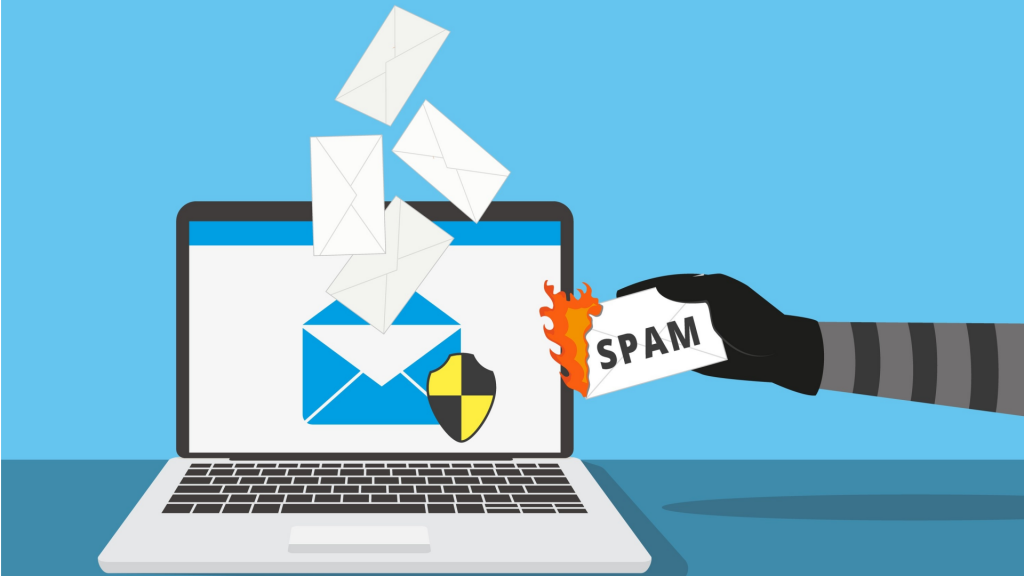 Anti spam – Anti virus Solutions for Email
Anti spam and anti virus email filtering solutions stop known and zero-day threats at source and prevent them from entering your network. Advanced anti spam and anti virus email filtering solutions achieve spam detection rates in excess of 99.9% and identify 100% of inbound malware.
Spam, What is spam?

SPAM is irrelevant or unsolicited messages sent over the internet, typically to a large number of users, for the purposes of advertising, phishing, spreading malware, etc. Spamming is the use of messaging systems to send multiple unsolicited messages to large numbers of recipients for the purpose of commercial advertising, for the purpose of non-commercial proselytizing, for any prohibited purpose, or simply sending the same message over and over to the same user.
"Spam has become an increasingly distracting nuisance that detracts from the efficiency and effectiveness of email."
Key spam statistics
Spam campaigns exploiting the COVID-19 pandemic have become rampant. The most common techique, according to Symantec, is snowshoe – using multiple IPs and domains for spam campaigns in an effort to avoid detection.
Nearly 85% of all emails are spam.
Americans admit to losing more than $70,000 to Nigerian Prince scams in 2019.
Scams and fraud comprise only 2.5% of all spam email; however, phishing statistics indicate that identity theft makes up 73% of this figure.
Email spam costs businesses $20.5 billion every year.
As many as 85% of all organizations have been targeted by phishing scams in 2020.
Microsoft accounts are the most popular targets of phishing emails, accounting for 43% of all phishing attempts
Fake invoice incidents more than doubled in the first part of 2020.
What is Anti-spam? Want to put an end to SPAM?
Congratulations! You have just found the absolute best SPAM fighting weapon that the world has ever known! When it comes to killing SPAM nothing is as deadly as an Email Firm's Antispam Solutions with ASSP
ASSP – Anti-Spam-SMTP-Proxy
What features make ASSP great? …
– Easy browser-based setup. No web-Server or servlet Server required.
– Uses your existing message transport and existing SMTP server.
– Works with Sendmail, qmail, Postfix, Imail, Exchange, Courier, Mercury, IBM Lotus Domino, and all other standard SMTP servers.
– Runs on Linux, Unix, Windows, OS X, OS/2, and more.
– Automatically customizes to your site's unique email profile.
– Automatic whitelist — noone you email will ever be blocked.
– Early Sender validation — Kills most spam before it ever reaches the server.
– Senders receive immediate notification, if mail is blocked but no erroneous bounces are ever generated.
– Redlist keeps an address off the whitelist.
– No-processing addresses pass through.
– Makes use of honeypot type spambucket addresses to automatically recognize spam and update your spam database.
– Bayesian and Hidden Markov Model filter intelligently classifies email into spam and non-spam.
– Supports additional site-defined regular expressions to identify spam or non-spam email.
– Can optionally block all non-whitelisted email (for anti-spam zelots).
– Automatically maintains the spam and non-spam databases.
– Accepts whitelist submissions and spam error reports by authorized email.
– Optionally rejects executable attachments from non-whitelisted (or all) addresses, including scripts and MS-Office macros.
– Integrates with ClamAV, VirusTotal and/or any antivirus application of your choice.
– Optionally generates scheduled block reports.
– Free (as in speech) software — Licensed under the GPL.
– Practically no maintenance required.
– Active user community, forum and email list for support questions.
– Source code included if you need to customize your installation.
– Runs as a service in Windows.
– Optionally blocks no mail but adds an email header and/or updates the message subject.
– Optionally uses community-based spam statistics to identify hosts that are likely to send spam or non-spam mail.
– In *nix environments can switch to non-root user. Also supports chroot jail.
– Individual users can be configured to receive all mail.
– Shows detailed analysis of spam rating process for specific messages.
– Option to forward a copy of every rejected and/or accepted mail to an address.
– Can block spam-bombs (when spammers forge your domain in the from field).
– Keeps spam statistics for your site.
– Detailed documentation for each configuration parameter.
– Can listen on more than one smtp port.
– It supports IPv6, SSL and STARTTLS.
– It supports SPF,SRS,DKIM, Domainkey, DMARC, ARC, URIBL, DNSBL, RWL, Backscatter detection, LDAP and VRFY user and domain verification.
– ASSP has full unicode support.
– ASSP can be monitored and configured using SNMP.
– Multiple ASSP can share configuration parameters.
– Can enhance functionality using plugins (content based executable detection, OCR, DCC, Razor2, blocked mail RSS feed)
– it provides centralized privat SMIME signing and a special mechanism for corporate SMIME signing using one simple privat certificate
And much more!
ASSP – Anti-Spam-SMTP-Proxy
SPAM on Email, What is Anti-spam? Spamming refers to use of an electronic messaging system to send unsolicited messages especially advertising messages to a group of recipients. Unsolicited messages mean the recipient did not grant permission for those message to be sent.
Anti-spam refers to the use of any software, hardware or process to block spam from entering a system. The anti-spam software uses a set of protocols to determine unsolicited and unwanted messages and prevent those messages from getting to a user's inbox.What is Anti-spam?
Most of the Anti-spam solutions that are available today can be customized as per your needs, allowing only the approved emails into your inbox. Such software always presumes that all the incoming emails are spam, and only allow those, from the people you know, to come in.
Benefits of Using Antispam Software
Blocking Spam
Quarantining Spam
Automatic Filter Updates
Monitoring Multiple Accounts
Your Personal Whitelist
Reporting Spam
Let us look at some of the benefits and features of the anti-spam software:
Blocking Spam
Certain anti-spam solutions not only block specific email addresses but also search for subject lines and text in the email messages. You can customize it to block incoming emails based on senders, and even if your email address is not in the recipient field.
Quarantining Spam
Antispam filters automatically quarantine the spam emails, ensuring your inbox is spam free. Such quarantined emails are held for a fixed number of days, say 30 days or so, and then dumped. During that period, you can check and recover any legitimate email that may have been quarantined.
Automatic Filter Updates
Most of the anti-virus software comes with automatic filter update feature for timely detection of new types of Malware threats. Automatic updates not only helps the anti-spam software to stay up-to-date, it also helps secure your system from new kinds of Malware.
Monitoring Multiple Accounts
With this feature, you can monitor and filter spam from multiple accounts. You can filter your home email from work email, and vice versa.
Your Personal Whitelist
Some anti-spam software allows you to maintain a 'friendly' list of people whose emails you wish to accept. These emails will never be mistaken for spam as against the blacklist of spammers. You can also update the list in the future.
Reporting Spam
Some anti-spam programs allow you to report spam back to the company supplying the program. It helps that company to develop new type of filters based on the analysis of the reported spam.
Emails have become a very popular way of advertising, and it is time that you start filtering your emails, to avoid spam. Most of the anti-spam solutions are signature based that use their signature file (blacklist) to detect and respond to new type of Malware.
In signature based anti-spam software, new and unknown types of Malware goes undetected since there is a time gap between the time these new type of Malware threats are released and the time anti-spam software vendors have identified them and updated their signature file. This is where Containment technology comes into play.
Containment technology works by keeping the threats or harmful files under control or within certain limits. The harmful files are processed in a restricted operating system environment, thus controlling the resources and the spread of infection.
Email Firm's Antispam Solution is the only enterprise anti-spam solution that has containment technology built-in. It uses advanced spam filters, and content analysis engines to identify and prevent unsolicited emails from entering your network. If you are in search of a good anti-spam solution, look no further get Email Firm's Antispam Solution today!
What Is Spam Email?
Spam which was once just annoying is now developed to attack organizations causing security data breaches to drive profits through massive attack. Spams are unsolicited emails with the intent to infect computers and steal information. Spam mails are crafted like genuine-looking emails claiming to be from an authorized organization. However, it holds a malicious attachment…
How To Stop Junk Email
With the online space evolving into a global marketplace businesses from around the world are trying to capitalise on the internet to tap their new customers and to engage with their existing ones. Besides this benefit, the internet has also provided room for online fraudsters to entice unwary users into phishing scams and make them…
Anti-spam Filtering Techniques
Antispam solutions can be of great use if you or your business is experiencing huge volumes of spam emails. With the Internet becoming the dominant platform for businesses to reach out to the customers, unsolicited bulk email aka spam has reached epidemic proportions. As more and more digital marketers' turn to bulk email as a…
Sales Number : +91 9582 90 7788
Support Number : +91-9654 01 6484
Sales Email : sales@itmonteur.net
Support Email : support@itmonteur.net