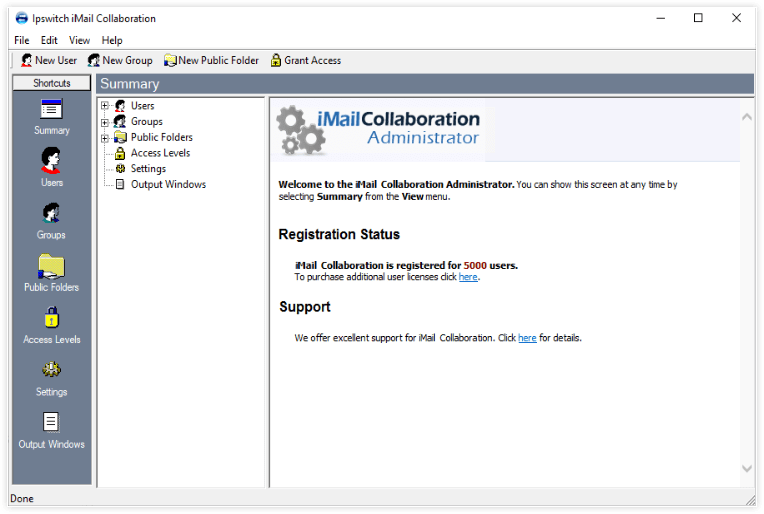 iMail Email Server, As businesses rely more and more on a mobile, distributed and multi-tasking workforce, having a solid set of collaboration tools is a necessity.
iMail Email Server Business users must be able to:
iMail Communicate with colleagues whether they are down the hall or across the ocean
iMail Collaborate together on documents without missing crucial changes
Schedule meetings
Update contact information publicly
Track the status of multi-person projects
iMail Server allows Microsoft Outlook users to collaborate with each other effectively through an integrated and easy to use email collaboration platform.
iMail makes business collaboration easy.
iMail Email Server Collaboration Features
iMail Secure within your organization, including free/busy scheduling
iMail Share Calendars, Contacts, Email, Tasks and Notes
Public Calendars
Public Contacts
User control access to personal folders
Does not Require an Exchange Server
Works with Outlook 2000 and Above
Sync Outlook contacts with Web Messaging
Reliable. Affordable. Hassle-free.
iMail Server is a complete email messaging solution designed for small to mid-sized businesses and is backed by the industry's best technical support team.
iMail Server Full Service
iMail Server is a complete Windows email server with SMTP, POP, IMAP, LDAP, and List Server. iMail users can send and receive email using any standards-based client, including Microsoft Outlook® and Outlook Express®. Or, users can access email via iMail's customizable Web messaging.
98% spam catch rate with Cyren Anti-spam
99% customer satisfaction
75% savings over Exchange
iMail Email Server Benefits
iMail Admin Friendly
From installation to everyday administration, iMail Server is designed to make life easier for the busy network administrator. Administration can be done through the web or console admin. Top-tier support is available 24×7, whether it is through our quality tech support team, our administrator utilities pack, customer forums, knowledge base articles or any of the other valuable resources available on our website.
iMail Team Builder
iMail Server is a Windows email server that facilitates collaboration throughout all levels of the organization and to businesses in any industry by providing secure Ipswitch Instant Messaging with 168-bit 3DES Encryption, and optional integration with Microsoft Exchange ActiveSync®. iMail Server also includes WorkgroupShare for secure shared calendaring, contacts, tasks and notes, scheduling and free-busy lookups using Microsoft Outlook®.
iMail Adaptable
Licenses are available in packages for 10, 25, 100, 250, 500, 1,000, 2,500 and unlimited users. Increase your users as your needs change. iMail can also be purchased with or without a Service Agreement.
iMail Extensive Features
We encourage you to take the time to look through the many features that iMail Server supports. For more detailed technical information on each of these features.
iMail Email Server Editions
Messaging is the most vital aspect of many small to mid-sized businesses. iMail has the built-in functionality that your business needs to succeed.
iMail Standard

iMail Server Standard is a complete email messaging solution designed for small to medium sized businesses and backed by one of the industry's best support teams.

iMail Premium

iMail Server Premium includes all the features of iMail Standard with the addition of industry-leading, real-time anti-spam technology from CYREN.

iMail Secure

An all in one solution for administrators that need all of the security and features of the iMail solution.