Outlook Training
Add an email account to Outlook
With Outlook on your PC, Mac or mobile device, you can:
Organize your email to focus on the messages that matter most.
Manage your calendar to schedule meetings and appointments.
Share files from the cloud so everyone always has the latest version.
Stay connected and productive wherever you are.
Add an email account
Open Outlook and select File > Add Account.If you haven't launched Outlook before, you'll see a welcome screen.
Enter your email address and select Connect.If your screen looks different, enter your name, email address, and password, and select Next.
If prompted, enter your password and select OK.

Select Finish.
Discover your Outlook inbox for the first time and see how everything's organized.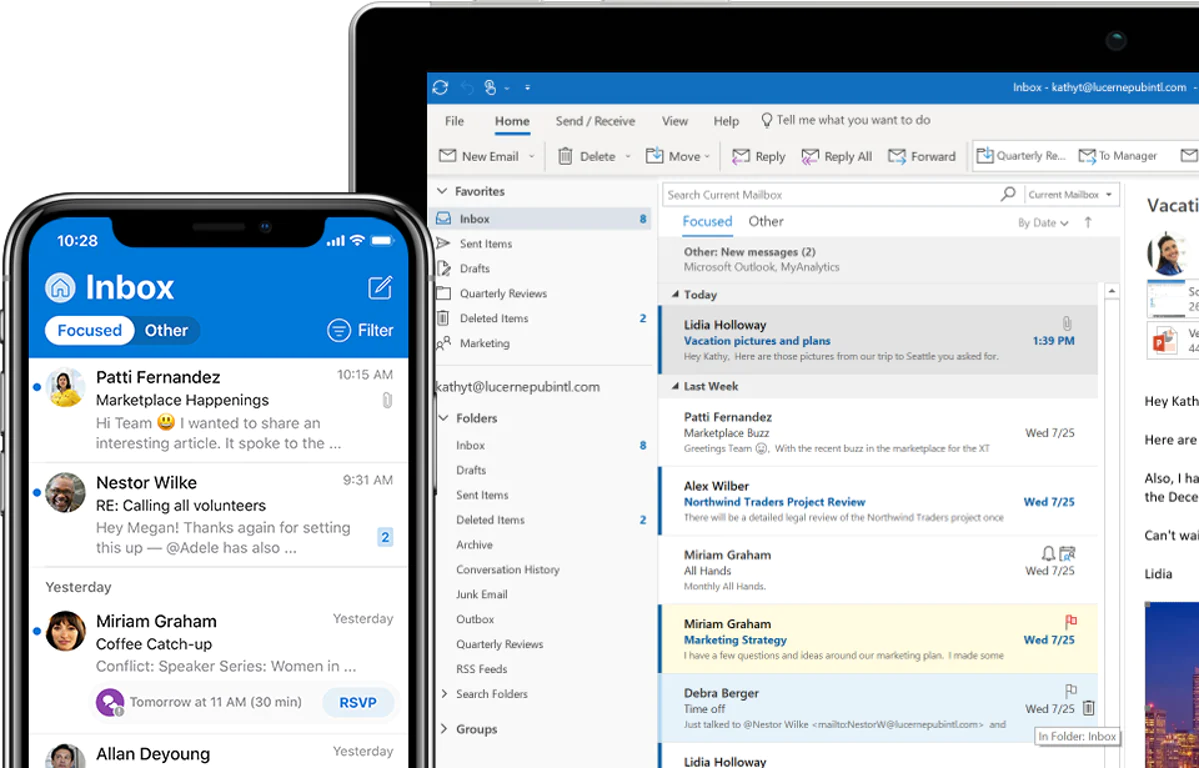 Overview of Outlook layout
Folders are available in the Folder Pane. Some folders are pre-populated, or you can create new ones.
Inbox is located in the Message List.
Emails open in the Reading Pane.
The ribbon gives you more options to organize emails. Select the arrow on the far right to expand or collapse the ribbon.
Change the appearance of your email
Select View.

From here, you can:

Change the size of the Folder Pane.
Move the Reading Pane.
Turn the To-Do bar on or off.

To adjust the size of the email text, adjust the Zoom bar in the lower right corner.
See more email options
Right-click folders in the Folder Pane to see common organization actions.
Right-click an email in the Message List to show more message options.
Right-click the Reading Pane for additional email commands such as translation.
Get training and help
Select the Help tab to contact customer support or see training videos.

Use Search to find other commands or search through your email, contacts, and calendar.